Spring update 2021 🌞🌱🌻
Hello everybody! We thought we'd write a little update on how we've been doing and to communicate our plans for this Spring / Summer.

After having to stay closed and get through the difficult winter, Spring is finally here!🌸 Many of us remain furloughed and working out what is best to do is a difficult exercise! We have been busy planning, prepping and preparing💬💭 our hopeful re-opening and getting things in shape for Spring.🥬🍏🍋 As we don't have an outdoor seating area, we, like many cafes, have not yet opened.

Given the low Covid-19 numbers, we are hopeful that we will be able to open on or around May 17th when indoor dining restrictions are lifted! As the safety of ourselves and our lovely customers is our top priority, the uncertainty of the situation means we can't promise a date at the moment and our decision on when to re-open will be made in line with guidelines and what we feel is safe.🙏🏿

When we do re-open, Spring will mean we can have our lovely French windows wide open to fill the cafe with sunshine and fresh air, and we will be utilising a similar one-way system as we had before. Masks will be mandatory except when not eating of course!😷
We are sad and regretful that we can't give you more exact information at this time, we hope you appreciate the struggle for little community cafes like ours, but we are psyched and ready to open when we can!💪🏽🤩🤙🏻💜
We will post more updates about our opening so keep checking this space!

Stay safe!
Hello to all of our lovely customers,
As you all know, we've been greatly impacted by the Covid-19 pandemic and with great sadness have had to shut our doors and close our events space since mid-March. We don't regret it though – we were one of the first cafes in Brum to shut our shop with the well-being of our staff and customers as our biggest priority, a clear contrast to the catastrophic efforts by the Tory government to do much to prevent loss. So, we took action into our own hands and helped set up the project Solidarity Kitchen as part of the network Co-operation Birmingham, offering our kitchen space and staff as voluntary help towards feeding those self-isolating in the city without means. If you have free time to help, or can make masks, get in touch! Social causes have always been at the heart <3 of what we do at the Warehouse Cafe and nothing will stop us.
We are still waiting to see when it will be safe for the hospitality sector to re-open – we anticipate we will be one of the last sectors to start trading again (for good reason!). In the meantime, we're busy dreaming and concocting what the next phase of the Warehouse Cafe might look like, as running a busy cafe and jampacked events space might not be feasible for the next year! Got any ideas? Send them our way! We want our community to be part and parcel of scheming and dreaming with us. Some ideas we are working on at the moment range from a fully-fledged delivery service, a co-op cycle delivery platform, to veg box distribution and social distance events. In the meantime, we're holding our horses and spending our time helping others in our city <3 We're a workers' co-op and co-operation and concern for our community are two of our driving principles!
BIG NEWS!! We have launched our crowdfunder survival fund, if you'd like to donate please click here → support us! (Psss, you get to watch our launch video too!).
We will keep you updated! Check out our Facebook and Instagram for sneak peaks on how we're using the kitchen now and to stay in touch <3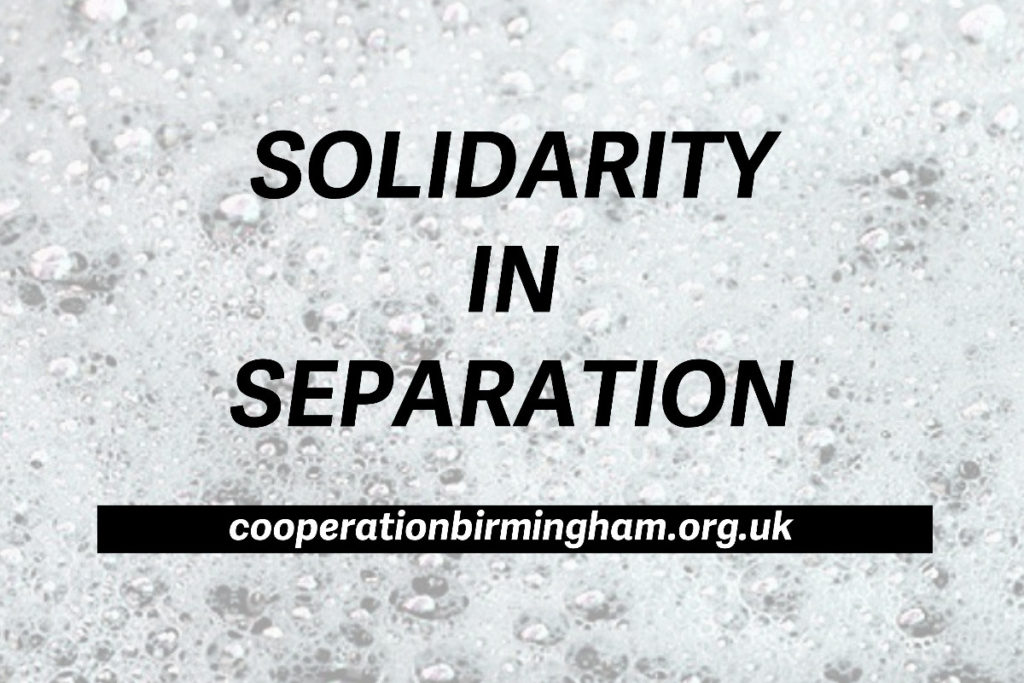 Solidarity Kitchen for Co-operation Birmingham
It's official! We are on board. Let's do this ✊✊
Plans are still changing quickly but the cafe is going to be a Solidarity Kitchen for Co-operation Birmingham. The cafe will also be providing our food service at least for the next week but only as a takeaway, with deliveries to come as we iron out the details. Opening times are unchanged.
In terms of Co-op Brum our role will be providing the kitchen infrastructure and cooking skills for the project which will be bringing prepared food and supplies to those in lock down/self isolating.
The Solidarity Kitchen is going to be done on a pay as you can basis and will hopefully be replicated by other kitchens across the city.
Please donate below to Co-operation Birmingham for the starting costs of setting this up. They raised over £1000 in the first day but much more will be needed if we are to make a difference.
In times like this, we can only look to each other and act where we can. People aren't apathetic, they are disempowered, lets show people what happens when we care for each other.
With love, and clean hands.
The Warehouse Cafe.
https://www.gofundme.com/f/cooperation-birmingham-mutual-aid-kitchen